The United States imports a significant percentage of the fuel we use to power electric generating plants, heat our buildings and run our cars.  The impact of importing fuels is a drain on our economy and a risk of geopolitical destabilization.  If our country lowered our energy consumption to the point where we no longer needed to import foreign oil and natural gas, our current trade deficit would turn into a trade surplus.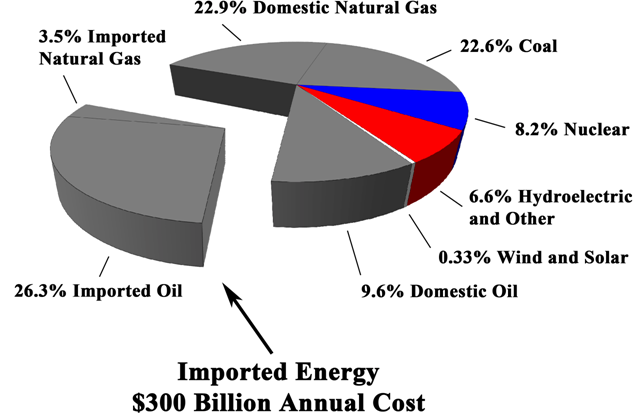 from the Oregon Institute of Science and Medicine
http://www.oism.org/pproject/Slides/Presentation/Slide25.png
Furthermore by burning the fossil fuel it takes to generate electricity we produce greenhouse gases that contribute to climate change.  Because nearly 50% of the total fuel consumption in the United States is used to heat and cool our buildings, it is of prime importance that we reduce our home and business energy use.  The ultimate goal of our neighborhood effort to reduce home energy consumption is for everyone to leave a zero carbon footprint and reduce our electricity and fuel bills to zero.    In the long run, the way to do this is by generating our own electricity through wind power or solar energy.  In the meantime, right now, we can make incremental adjustments in our life styles and inexpensive home improvements directed at lowering our carbon footprint.
Lowering Electricity and Heating/Cooling Fuel Consumption.
The first step is to create the baseline by which our progress can be measured.  Download your personal Baseline Calculator.  It is available at baseline.greeningneighborhoods.com.  Insert heating fuel, electricity, water, and gasoline consumption from utility bills.  If you have old bills go back one year and fill in the amounts of resources used.  You will now have a baseline to compare future consumption.
When you implement an energy saving practice note it on your Baseline Calculator so you can later determine how much effect it had on you energy consumption.
Energy saving ideas that will cost less than $10.0

0
Add weather stripping around doors.  Cost – $3.00 per door.
Add insulation around hot water pipes.  Cost – less than $10.00
Set back thermostats at night. Cost – $0.00
Learn to live a few degrees cooler in the winter and a few degrees warmer in the summer.  Cost – $0.00
Replace standard outlet and switch plates on exterior walls with insulated plates.  Cost – $2.50 / switch plate.
Replace standard incandescent light bulbs with compact fluorescent bulbs.  Cost – less than $10.00 per bulb.
Repair insulation around heating ducts.  Cost – less than $10.00 for duct tape
Seal pipes and ducts that enter and leave chases.  Cost – less than $10.00 for foam sealant.
Seal around plumbing pipes where they penetrate exterior walls. Cost – less than $10.00 for foam sealant.
Turn off or unplug small appliances and chargers when not in use.  Cost – $0.00
Turn off electronic equipment like computers, fax machines and printers when not in use.  Cost – $0.00
Wash clothes and dishes when you have a full load.  Cost – $0.00
Energy saving ideas that will cost less than $400.00
Add insulation to the attic.
Add point source water heaters.  (Also saves water)
Add insulation to crawl spaces.
Energy saving ideas that will cost mores than $400.00
Replace old appliances with Energy Star appliances.  Compare brands to get the most energy efficient ones.
Install solar panels.  An efficient 100 square foot array can provide up to 1,800 kilowatts of electricity.
Install a solar heated water system that will replace water tanks heated by electricity or natural gas.
Install window awnings on the south side of your home designed to capture solar heat gain in the winter and prove shade in the summer.
Replace single pane windows with double or triple glazed "low e" insulating windows.
Install ceramic frit film over south facing windows to reduce solar gain and ultraviolet rays from entering the room.